Jon Who?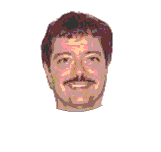 I'll keep a running synopsis of all about me on this page...
Frequently-Asked Questions
I do several things. I am a web application developer. I am a website designer. I am a collectibles expert and price guide author. Mainly, that means I build databases and track collectibles markets. Some of my databases are published in book form, others in electronic or internet form. Right now I'm working on ways to use artificial intelligence to automate the creation and maintenance of market-related databases. My goal is to attach real-time market data to products in the collectibles markets so that collectibles markets can begin to operate like commodity and stock markets.
How did you get started in the collectibles business?
I've collected one thing or another since childhood, starting with stamps at around age 9, then a little bit of coin collecting, then scrounging and door knocking for antiques and "junque" in my early teens. I began selling rare stamps (Zeppelins and Columbians) through Linn's Stamp Weekly at the tender age of 13. By the time I was fifteen, I had a pretty good mail-order business going. All that was abandoned when I began college at Cadek Music Conservatory at age 16 (I was a classical guitar student there under the world-renowned Mario Abril - one of the biggest egos and worst teachers I ever knew). I was the youngest student he ever accepted (being the child prodigy that I was) and also the youngest flame-out he ever caused. After a year of Abril, I quit college and started my mail-order business up again, this time for good. So, since age 17 I've been buying and selling and writing about collectibles for a living. It's pretty fun.
In 1976, I was at a flea market with my cousins trying to sell some of the junk we had scrounged up when an old man named Mr. White came by our booth and offered to buy all the comic books we had on our table. He offered a nickel each. We politely declined because the comics had been selling real well for a dime each. He informed us that we would sell them to him eventually because "he had the comic book concession locked up at this flea market." Having no idea what a "comic book concession" was I wandered around the flea market until I found his booth ... where I had a life-changing event ... (okay, maybe that's being over-dramatic) ... but I was amazed. The booth was filled with nothing but comic books, some with big prices on the sticker. And he had a book he looked the prices up in. It was called Overstreet's Comic Book Price Guide. I vowed to own a copy of that book. I was familiar with price guides, having used Scott's Guide To Stamps in my stamp dealing business. I recall thinking that comic books would be simple to find compared to stamps. I would get rich!
So, I started hunting for comic books. And they were easy to find, at first.
Eventually, I found a copy of Overstreet's Comic Book Price Guide (5th edition, with the Tarzan cover). I was stunned and amazed to read that the publisher, a Mr. Robert M. Overstreet, lived only 30 minutes away from me in Cleveland, Tennessee. I was even more amazed to see that his phone number was listed in the Chattanooga phone book! I called him up. I was nervous to be speaking to someone so great and important (remember, I was 18 at the time), and my voice cracked as I explained to Mr. Overstreet the reason for my call. It turned out there was no reason to be nervous, he was one of the nicest guys I ever spoke to. He even invited me over to see his collection of rare comics. I went to his house where I met Bob and his lovely wife Martha and their two children, Steve and Jeff. I called him "Robert." He told me it was okay to call him "Bob." He was cool. That was the beginning of a friendship that lasted for more than 15 years.
It was my friendship with Bob that motivated me to author a price guide someday, and I'll always be grateful to Bob for the mentoring and tutoring he gave me that helped me learn how to write price guides. As it turned out, I became the co-author with Bob of The Overstreet Update for ten years, from 1982 to October, 1992. The Update was a bi-monthly magazine supplement that updated the prices in Bob's big annual book. It was my first good idea, and Bob didn't want to do it at first. He feared it would hurt sales of the big book. But, I eventually persuaded him that if we didn't do it, someone else would. The Update was very successful for a long time, until it was eventually bumped from the number-one-best-selling-comics-magazine spot by an upstart publication by an upstart kid fresh out of college named Gareb Shamus. The magazine was called Wizard: The Guide To Comics. I remember Bob and I laughing at the name.
We didn't laugh for long. The first issue of Wizard came out in 1992. By 1994 The Overstreet Update (changing names several times along the way) was out of business.
I became Senior Price Guide Editor for Wizard: The Guide To Comics for the next 10 years, from July 1993 to December 2003. Isn't this a great country? :)
Now, I publish my own price guides, both in book form and online in searchable internet databases.
Are you the guy who published Famous Monsters Of Filmland?
No. I am the same guy who wrote The Official Price Guide To Paperback Books and Warren's Movie Poster Price Guide and who was the editor of The Overstreet Comic Book Update (until 1992) and who published Collecting Hollywood magazine and Comics Source magazine. I'm the guy who started The American Collectors Exchange in 1987, whose advertisements proclaimed that we were "The Collectibles Stock Market." My ads for ACEX announced an online trading system that was auction based, eight years before eBay (too bad the IP Protocol and TCP/IP networks weren't available in 1987 or I might be rich today).
However, I am NOT the guy who published Creepy, Eerie, and Famous Monsters Of Filmland. That was Jim Warren --- no relation. Lots of people ask me that question.
August, 1975 Started college at age 16 (two months before 17th birthday)
May, 1976 Quit college
September, 1976 Mr. White introduces me to the world of collectible comic books at the Rossville Super-Flea Market.
November, 1976 I meet Bob Overstreet. His 6th edition was current then.
April, 1979 I'm listed as a Special Advisor on the title page of The Overstreet Comic Book Price Guide for the first time.
September, 1982 The first issue of The Overstreet Update is released. I'm listed as the co-author, which was the agreement Overstreet and I made. Since it was my idea, I'd do all the work, he'd pay the printing bills, and we'd split the profit 50/50. I still have the original contract.
November, 1982 I buy my first personal computer, a Radio Shack TRS-80 with 32K of memory and a floppy disk drive. It cost $3200.00. A computer science professor at the University of Tennessee helped me write a program that I used to create the Overstreet Update.
December, 1984 I buy a "real" computer, the Rainbow by Digital Equipment Corp. It had 256K of memory and a 10 meg hard drive. It was called "the cadillac of personal computers." I used Lotus 1-2-3 to create the Updated comic book prices and Wordstar to create the first movie poster price guide.
October, 1985 The first edition of Warren's Movie Poster Price Guide is released. The database contained over 12,000 movie titles at that time (it now contains over 50,000 movie titles).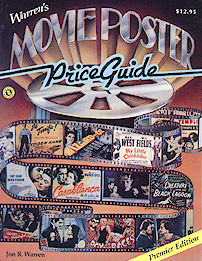 February, 1986
I marry Elizabeth Anne Sain, my first and only wife.
April, 1986
The Overstreet Update becomes a quarterly.
January, 1987
I launch The American Collectibles Exchange. We marketed the company as "The Collectibles Stock Market." Check out our ads in Overstreet's Comic Book Price Guide from 1987 to 1991 that described "an electronic marketplace." ACEX was an auction-based trading system that was completely database driven. We actually had dealers who would dial into our Microvax 2000 system and enter items for sale using an online form.
It was during this time that I formed ideas about how collectibles could be traded on exchanges in much the same way as stocks and commodities.
We had "brokers" who would dial into our mainframe and enter items on behalf of "clients", the brokers earned commissions on sales of items they entered into the system. Mark Derrick and Keith Contarino were two of our early Beta testers who were brokering at the time. We operated the exchange until sometime in 1992. I hired a local company (Chattanooga Online) to write a web-based version of the auction system, but they were morons who never completed the project! This was three years before ebay launched!
May, 1991
My Official Price Guide to Paperback Books is released by Random House's House of Collectibles division.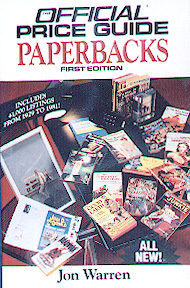 October, 1992
Bob Overstreet ceases publication of The Overstreet Update, I pursue other interests.
December, 1992
I release the debut issue of Collecting Hollywood. American Collectibles Exchange becomes a pubishing house.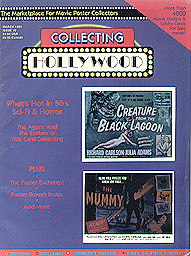 February, 1993
We publish the first issue of Comics Source magazine.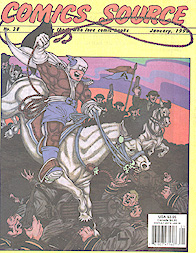 April, 1993
The second edition of Warren's Movie Poster Price Guide is published.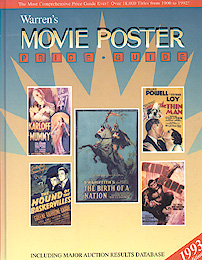 July, 1993
I become Senior Price Guide Editor for Wizard Entertainment. I was responsible for prices in their monthly comics magazine and other magazines until December 2003.
May, 1994
The third edition of Warren's Movie Poster Price Guide is published.
November, 1994
The first edition of Wizard's Comic Book Price Guide Annual is published. I wrote it.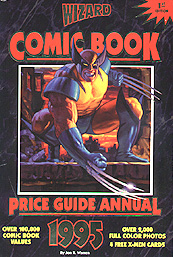 November, 1995
The second edition of Wizard's Comic Book Price GuideAnnual is published.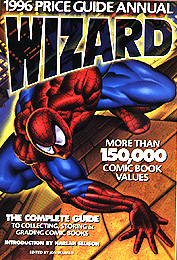 January, 1996
Wizard Entertainment renews my contract, adds three new price guides to my responsibilities: Toyfare, Inquest, and Beanie Power.
May, 1996
I cease publication of Comics Source magazine with issue number 31.
January, 1997
I launch Iguide.net and iGuide Media, Inc. See iguide.net
November, 1997
The fourth edition of Warren's Movie Poster Price Guide is published.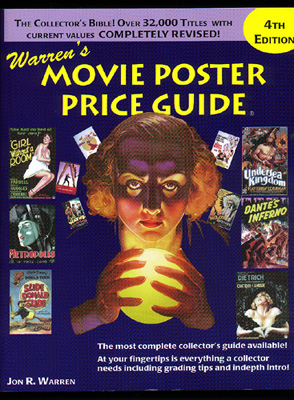 October, 1998
I meet with Gareb Shamus at Wizard Headquarters in New York to begin preliminary discussions of our Internet Strategy.
January, 1999
I cease publication of Collecting Hollywood magazine.
March, 1999
I begin working on software to capture transaction data from the web. "The Bot Project"
May, 1999
I begin work on artificial intelligence expert systems to do automated data analysis of captured sales data. "The Knowa Project" (www.knowa.com)
December, 1999
Prototype systems are complete, tested, and working.
May, 2000
I become Vice President of Market Research for WizardWorld.com. This was an early vertical marketplace website for comic book, toy, and sports card collectors.
September 2001
Wizardworld.com fails to get a second round of venture capital financing and goes out of business .
December, 2003
Wizard and I part ways.
January, 2004
I launch the I Collect series of sites, the first one is I Collect Movie Posters
May, 2005
My firm is hired by Heritage Auction Galleries of Dallas, TX to create a prices realized database for them.
January, 2006
Heritage database project is completed.
August, 2006
I start back to college with the goal of getting a BS in Computer Science.